FEST 2014 SUNDAY, AUGUST 3rd Noon to 10:00pm
Join us for the 14th annual FEST! A one-day, FREE family festival for all ages held on Sunday, August 3rd at 28700 Euclid Avenue, Wickliffe, OH
Live, national Christian bands on stage, entertainment, games, BMX shows, kids' areas, opportunities for inspiring prayer, tents with vendors from all over our area, giveaways, and your favorite festival foods. At 8:00 PM, join in the highlight of the day...an inspiring outdoor Mass shared by thousands! The evening is ended with an incredible fireworks display as the finale of this wonderful event!
Throughout its history, The FEST has truly become a one-of-a-kind regional event. People from all over Northeast Ohio and beyond eagerly look forward to The FEST each year! The FEST began in August of 2000, where just under 5,000 people attended. Now, twelve years later, the attendance has reached 35,000+! Find out why so many people keep coming back!
Testimonials
!
More questions? Check out our FAQ page
FEST 2013 Testimonials
"I wanted to thank you, your team  and all the volunteers' for putting together such an amazing event today!  It was my first time at the FEST. It was such a great experience. I honestly felt God's presence in so many ways there today! Absolutely refreshing and so grateful for the experience." - Lisa Hicks

"I just want to thank Marc's for the wonderful gift bag I received at the FEST. The bags were full of great merchandise & coupons. I will continue to shop at Marc's to repay you for your generosity to the FEST. Thanks again." - Maryann Riley

"Our Executive Director, Sr. Mary Ann Flannery, SC emailed our board yesterday evening and said it was the best FEST ever, for all in attendance and the Lord. We thank you for the opportunity to hold the mini-retreats in the Issemann building. The FEST volunteers assigned to our area were superb (Colleen, Kittie, & Patty)." - Marian Ruban

"Awesome experience yesterday! Thanks for boldly proclaiming Jesus and your terrific support of Alpha!  How terrific it was to have Alpha mentioned so prominently from the stage and on the video screens.  It was certainly well received at our tent. Looking forward to working on all the next steps to even bigger and better things in 2014.  Let's think big let the Holy Spirit lead!" - Michael Dolan

"Thank you times 1000 to all of you who made this day fabulous. My fiance's son said, "Dad, this is the best day of my life!" as we watched the fireworks & balloons. Praise God, great weather and celebrating our faith as a family of God. Doesn't get any better than that." - Greg Galla

"This email goes out to you, the Fest Core Team. I realize there may be others in the Core Team, you are those that I have had contact with. I want to take a moment to THANK and CONGRATULATE each of you for ALL of your dedication and hard work in coordinating this event! It's AMAZING that this group, with the help of many others, of course, but led by YOU - is able to pull off such an event of this MAGNITUDE is ........ just....WOW! I'm sorry...I'm out of words to describe what I feel inside.... I walked in the parade of nations with James behind me, as we each held our flags up high and so proud to be an integral part of this event. And, if that wasn't spiritually uplifting enough, the fact that we were also able to be a part of the 300 member choir, led by the ever-AMAZING Tom Bonezzi, looking out into the biggest crowd EVER to participate a mass this size truly uplifted MY spirit!" - Dawn Blaylock


FEST Presenters!
Attention teens! We have great presentations coming your way - FREE thanks to the FEST! Click the image to visit the presenter page and register early.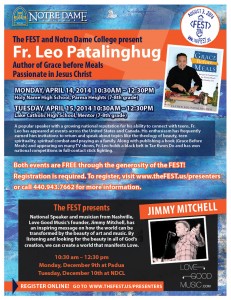 The Moment the FEST Stood Still
Every year after the FEST our talented photographers go through the thousands of photos taken throughout the day. Then the most incredible photo that captures the essence of the end of the outdoor mass is sent our way by Norm Trepel. WOW! We are blown away by the beauty. Click on the photo to open a larger image and save this file to your computer to use for your desktop background, screensaver or personal use.