Youth Rally
Attention Youth/Campus Ministers!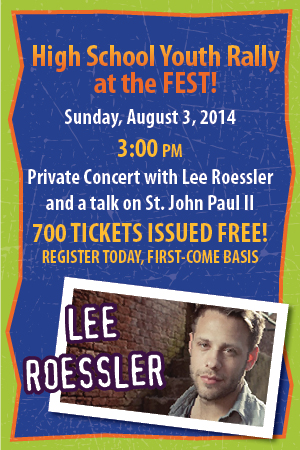 For 14 years, The FEST has been a regional summer destination for thousands of high school students.  Each year the mission of the one-day event is to inspire the next generation of Catholic leaders to grow stronger in their relationship with Jesus Christ through prayer and witness.
The theme this year is, "CHOSEN," a reminder that each one of us is CHOSEN by God. It is as if God is tapping each on of us on the should saying "I want YOU; I NEED YOU. He has a clear plan for each one of us. We must open our hearts and allow ourselves to respond to God's call.  Answer his call and join us at the Youth Rally featuring a private concert with Lee Roessler, and witness a talk on St. John Paul II and pray with his relics.
The Rally will occur during The FEST, on Sunday, August 3, 2013, at 3:00 PM in the Field House at the Center for Pastoral Leadership.  There will be a time of praise and worship, Eucharistic Adoration, and a message especially directed to high school students.
To attend our Youth Rally, Youth Ministers need only to complete the request form below on behalf of your students or call our office at (440) 943-7662 to reserve your entrance time. *No tickets are required*
The Rally and The FEST is a great way to refocus your teens on Christ at the end of the summer and prepare them for the start of the school year.  After the Rally enjoy Mandisa at 4:30 p.m. and Third Day at 6:00 p.m. on the main stage and then celebrate Sunday Mass with thousands of Catholics as the day comes to a close.
Please feel free to contact The FEST office with questions.
In Christ,
Father Andy Turner
Father Bob Stec
Teresa Szary
Alexandria Harvey
The FEST Youth Rally will have ASL interpreters for the hard of hearing and deaf.